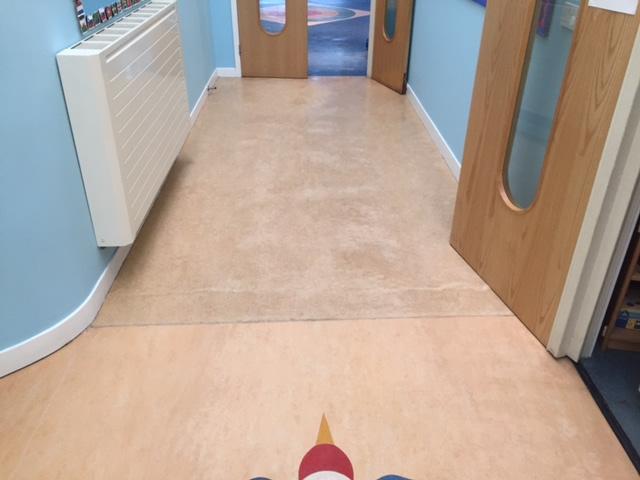 At Rogers Cleaning Services we provide professional hard floor cleaning, polishing and re-sealing services for clients in Topsham, Exeter, Topsham, Teignmouth, Ashburton, Bishopsteignton, Bovey Tracey, Buckfastleigh, Chudleigh, Dawlish, Dawlish Warren, Kingskerswell, Kingsteignton, Newton Abbot, Torbay, Starcross, Kenton and surrounding areas.
Hard Floor Cleaning
Many of the hard floors we clean are in schools, nurseries and care homes – areas where a non-slip, easy to clean & low maintenance floor is essential, but also areas that get an awful lot of foot traffic. Even though these floors are extremely hard wearing and easier to clean than most, the sheer amount of wear and tear each day along with dirt and spillages means that these floors occasionally need professional attention.
We offer a full "strip and seal" service to revitalise the floor. First, a chemical floor polish remover is applied to the floor to completely strip away the worn and dirty polish. Our scrubbing machines make sure that the surface underneath is deep cleaned and all residue is removed, and then a fresh application of metallised floor polish is applied.
Depending on the surface, between 3 and 5 coats of polish are usually required to give the beautiful high gloss shine that our clients love to see. Once dry this polish looks amazing, has great non-slip properties and protects the flooring below for months.
School Floor Polishing
A large proportion of our floor polishing work is undertaken for local schools during the summer holidays. When the school is completely empty we're able to clean all the corridors as well as the classrooms, with no disturbance to the staff or pupils.
In some larger schools we also undertake cleaning over the winter holidays, usually re-sealing all the high traffic areas that won't last an entire year between re-polishing.
Floor polishing in nursing homes
Nursing homes are busy places, and there are no weekends or holidays where it is easier to undertake floor maintenance, so we often work nights to get the job done with minimal disturbance.
Any areas that can be polished during the day will be, and the common areas and corridors are left for after-hours work. Our floor scrubbing machines are quieter than you might expect, and the actual polishing process creates no more disturbance than mopping floors would, so we can usually get the job done over the course of a few nights without disturbing residents or staff.
We understand that each job is unique, so we always discuss the best schedule & options with management before work begins.
Whatever your hard floor cleaning and polishing needs, don't hesitate to get in touch with our friendly team. We can offer advice, a full survey of your project and a fixed price quotation for any work you need.