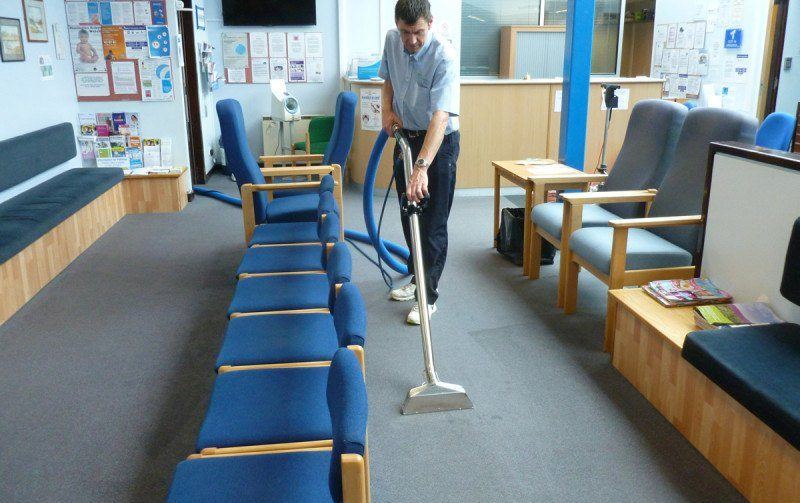 There's no doubting that carpeting is a great choice for any commercial premises. Whether it's being used in a school, nursery, hotel or health surgery, a lovely carpet gives an oh-so-inviting impression of warmth and wellbeing. For that reason, amongst its other indisputable benefits, we tend to see plenty of businesses all around the Southwest – from Exeter to Newton Abbott – with carpeting in place as we go about our work.
The classic case against carpeting, of course, is that it's difficult to maintain. Whilst that's a bit of a cliché, it is still true… to an extent. If you try to clean your business's carpets yourselves, then – quite simply – you won't achieve very much! Even if you have a regular cleaner who looks after your premises, they still won't get very far unless they have specific training in commercial carpet cleaning, and professional-level equipment.
If you take either of the aforementioned approaches, your carpets will undoubtedly suffer over time. You might be able to get rid of the dirt which lies on the very surface, but we can guarantee that your carpeting will still look noticeably grubbier and grubbier over time. Stains in particular – which are an inevitability in any business – will be almost impossible to remove.
This could prove a big problem in somewhere like a bar or café, which relies on projecting a hygienic appearance to attract customers. Even in less of a customer-facing business – your typical office, for example – you may notice a decline in productivity, as the working environment becomes less professional.
For the reasons listed above, and for the sake of your business's air quality (and by extension the health of your customers and employees), regular commercial carpet cleaning is an absolute must. Not only that, but it needs to be done by a professional, experienced company; like Rogers Cleaning Services, for example!
Of course, the question then becomes, "How often should you get commercial carpet cleaning?" It's one we get asked a lot here at Rogers Cleaning Services, by business owners in Exeter, Newton Abbott, and elsewhere in Devon. To an extent, the answer really depends on the type of business you're running.
At a base level, we'd recommend booking in commercial carpet cleaning two or three times per year. If you operate a business where hygiene is of paramount importance, however – a health surgery, say, or a restaurant – you'll probably want it more often. Likewise, if your commercial premises tend to get more mucky than the average building – if you run a nursery, for example – you may need more frequent commercial carpet cleaning. An office, though, which doesn't welcome many new faces and shouldn't get too messy, could probably be cleaned less frequently.
So, that's our general advice on how often to get commercial carpet cleaning. The best way of all to find out how often your carpeting should be cleaned, however, is simply to call Rogers Cleaning Services! Give us all the pertinent information, and we'll be able to advise you on carpet care.
Better yet, book us in for a commercial carpet cleaning session, and we can give you an even more accurate recommendation! To do just that, call 01626 864834, or message us online here.