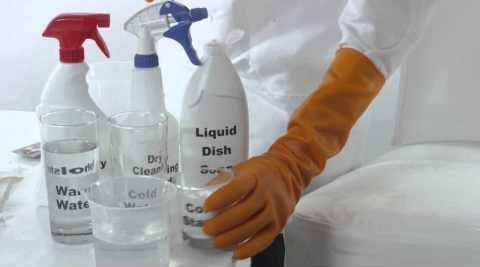 While supermarket or DIY stain removing products are marketed as the cheap, easy and effective alternative to hiring a professional carpet cleaner, we never recommend using them, even just for treating stains or small spills, and here are just a few reasons why:
Firstly, and most importantly – using the wrong chemical on the wrong carpet can do permanent damage! We've seen carpets where the pile has been ruined, where the colour has been bleached, and where the edges have shrunk away from the walls – all because the wrong method or chemical was used. Why take the risk with your home?
The simple fact is that there are many different types of fibre used in carpet making, and many different types of dye. Each type of carpet requires a specific method of cleaning and each type of stain or dirt requires a specific type of chemical to ensure the most effective cleaning without damaging the fibres or bleaching the colour, so the "one size fits all" type carpet cleaning products you find in your local supermarket or hardware store are almost certainly not right for your needs. Using the wrong detergent or the wrong cleaning method can even "set" a stain, making it permanent & beyond even our expert help.
Another big issue is the chemicals contained in these DIY cleaners. Many are quite caustic and poisonous, not something that you should be happy to handle and something many parents would not want in their homes if they have small children – and by hiring a professional carpet cleaner you can be confident that we use safe, professional cleaning agents, and nothing dangerous is sitting in your kitchen cupboard!
What is the benefit to hiring a professional?
The benefit to hiring us is peace of mind knowing that you're protecting your home. You know that your carpets will be inspected by trained experts and that we'll use the correct cleaning methods to get them looking great again, with no fuss and no risk.
Rogers Cleaning Service is here for all of your cleaning needs, so if you live in the Exeter, Topsham, Teignmouth, Ashburton and Bishopsteignton, Rogers Cleaning Service is here for you!
Contact us! Please do not hesitate to contact us to get your free quote or to ask for more information! Call our friendly team today on 01626 864834 or 07803 616192, or send us a message through our website contact form HERE. We are looking forward to meeting you!