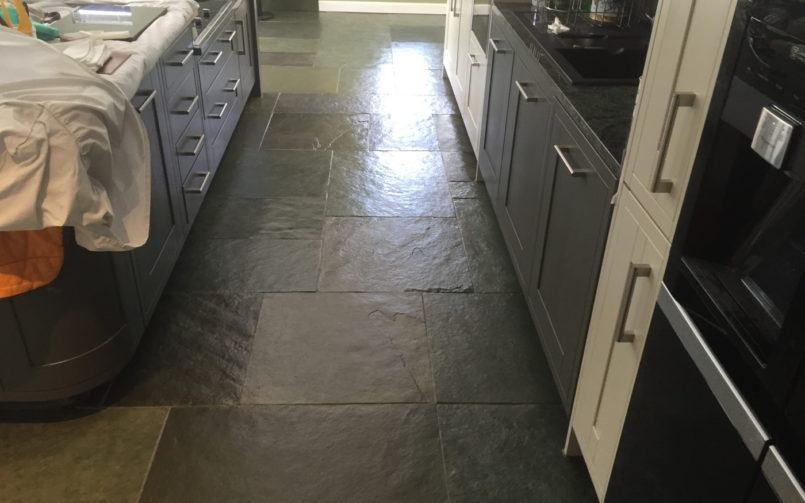 Your flooring reflects the life you live more accurately than any other part of your home or business. Every scuff and scratch represents a moment in time that someone has lived. Those are the floors you have made a living on and made a life on! Hire Rogers Cleaning Services to give life back to them!
All day long your floors collect the simple dirt and grime that comes with an active lifestyle and a busy home or office. Thankfully, when that wear and tear starts to look more of an eyesore than a treasured memory, Rogers Cleaning Services has the solution. We specialise in restoring natural stone, quarry tiles, marble & terracotta flooring back to its original beauty, and applying specialist sealants that help them to stay looking amazing for years to come.
Rogers Cleaning Services is a professional company based in Dawlish that understands what your floors have been through, and we know exactly how to give them the TLC they deserve. The basic cleaning process begins with sweeping the flooring, cleaning, and scrubbing the area with floor cleaning solution using a rotary scrubbing machine – and afterwards we use a specialist chemical to neutralise the flooring in preparation for the sealant. Once dry, we apply 2 coats of  hard wearing sealer to protect the surface from damage, stains & spills. This process can be used on many types of hard floors, but it especially makes your natural stone floor shine—reflecting every memory! Whether it's brand new kitchen flooring, family room flooring that has been through numerous game nights and gatherings with friends, or office flooring you had installed years ago, you can be confident that our quality workmanship, friendly customer service and attention to detail will have your home or workplace looking amazing again in no time at all!
Rogers Cleaning Services proudly undertakes the cleaning and restoration of many types of hard flooring such as vinyl, Amtico, Altro safety flooring, porcelain, ceramic, limestone, travertine, slate, and all other natural stone flooring. According to your preference, we can finish your floors with high gloss, matte, or natural finishes.
Allowing Rogers Cleaning Service to take the time to finish your floor correctly will help protect it from future stains, which will keep them looking great! We offer expert hard floor cleaning services in the towns of Exeter, Topsham, Teignmouth, Ashburton and all surrounding areas.
Call us now on 01626 864834 or 07803 616192 to find out what we can do for you, or to book your clean today.