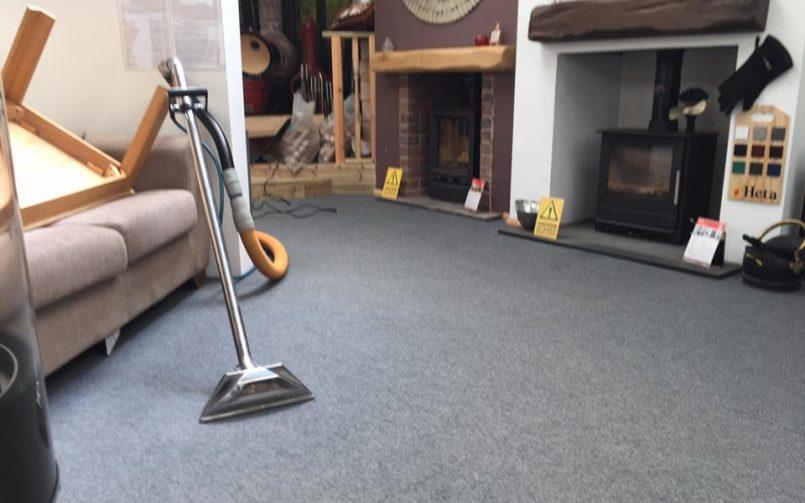 Carpeting has been a popular flooring choice for decades now, and – even after all this time – it still isn't going out of fashion. At least, that seems to be the case based on the volume of carpet cleaning bookings we still take, from across the Southwest of England, here at Rogers Cleaning Services!
The primary reason why people get carpeting in the first place is because of its warm, inviting look and feel. Simply by having carpeting installed, a room's entire atmosphere can instantly change.
The classic argument against carpeting, of course, is that it's difficult to maintain. Well, that… isn't strictly true! Whilst it's certainly a little trickier to maintain than hard flooring, it's hardly difficult. If you know how to look after your carpets, then you'll swiftly find that they look better, and their lifespans are increased.
So, how exactly should you go about doing that? We're glad you asked! Whether you're from Teignmouth, Newton Abbott, or anywhere else in Devon, these are the measures you should be taking for the sake of your carpets.
Spillages – of both food and drink – are a simple reality of life, and there's nothing you can do to stop them happening. What you can control, however, is how you respond to them.
Speed is the biggest factor here. If you act straight after a spill, there's a high chance you can stop it becoming a stain.
If there are solids in the spill, use a spoon to scoop them up and onto a towel or piece of kitchen roll, then get rid of them. As for liquids, use a towel and dab at the spill – do not rub it – to absorb the moisture. Then, using a different towel, gradually apply water to the area. Keep doing this, and the spill should vanish soon enough without leaving a stain.
You can't prevent dirt from naturally building up in your carpeting over time, but you can limit how much of it there is.
A great way to do this is by buying and placing a good old-fashioned door mat. They'll take dirt and moisture away from the shoes of you and other people, preventing them from getting anywhere near your precious carpets.
Consistent vacuum cleaning is a must. Whilst it won't transform the look of your carpets, this rudimentary form of carpet cleaning will help to keep the tufts of your carpets upright, and will somewhat limit the amount of unwanted substances that build up.
Professional Carpet Cleaning
Most people think they can just run a vacuum cleaner over their carpets every week or two, and that'll do the trick. Unfortunately, this is simply not the case.
This approach will still leave plenty of dirt and dust deep in the fibers of your carpets. In turn, the air quality of your rooms will suffer, and your carpets will never look entirely clean.
The only way to truly take care of your carpets is by calling in a professional carpet cleaning company, who'll operate in Teignmouth, Newton Abbott, or elsewhere in the Southwest.
So, there you have it – our four top tips for maintaining your carpets. The most important, by far, is to get a professional domestic carpet cleaning company in, at least once per year.
Rogers Cleaning Services is one of the longest-standing carpet cleaning companies in Devon. We carry high-powered equipment, and – in our 25 years of experience – have learnt how to get carpets of all types and sizes looking as good as new again.
To get in touch with Rogers Cleaning Services today, in order to discuss your domestic carpet cleaning needs, just call 1626 864834, or send us a message here.