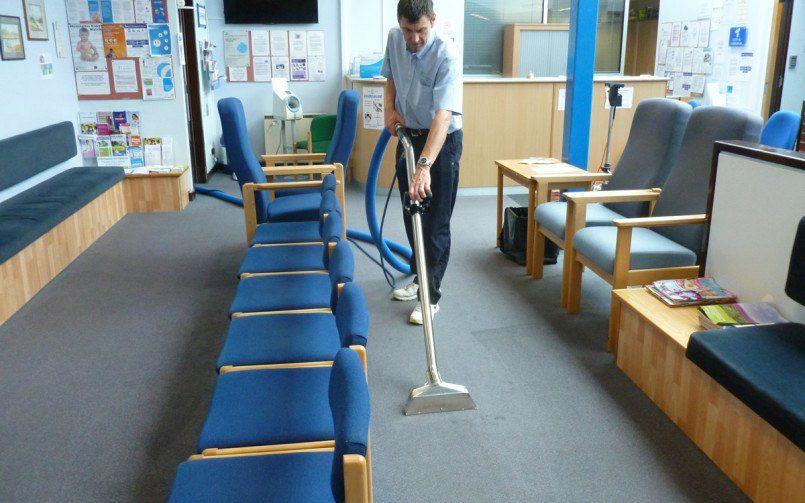 If you are a business owner in search of an expert carpet cleaner that you can rely on, call us today!
We will work hard while you are closed to prevent disruption of business, and our team are always friendly and professional! If you are located in Exeter, Topsham, Teignmouth, Ashburton and Bishopsteignton or any of the surrounding areas, then Rogers Cleaning Service is here to help.
The carpet in your showroom or office may not be something many visitors will be interested in – but they will notice if the carpets are dirty. This can sully their opinion of your business as a whole. If you carpets are dirty, stained, or grubby, it paints a picture that you do not care about your company. If you don't pay attention to these details, what other details might be sub-standard in your business? This is why a perfect first impression is vital!
If your carpets are well maintained, smell clean, and look well taken care of, things could be different. Taking care of the details  like this can help your business grow. Based on the condition of your carpet right now, what picture are you painting for your customers? Is it one that beckons them to put their trust in you or one that is sending them to your competitors?
We have over two decades of experience
We have dealt with rust stains, general cleaning, gum stains, and many other issues for over 20 years. Rogers Cleaning Service has what it takes to get your carpets looking professional and brand new again.
One of our favourite methods  of cleaning is called "low moisture cleaning". This method is designed for quick drying times, so that carpets can be used again almost immediately after cleaning. First, we begin by thoroughly vacuuming the surface layer of the carpet in order to remove initial dirt or dust that may be trapped. Next, we spray the carpet with our cleaning solution and allow it to soak in for a few moments. After that, we deep clean the sprayed area with a specialist pad on our rotary machine. Then, we treat any spots, stains, or marks that remain with an even higher-powered solution and subsequently run our specialist pad over it again. Once this procedure is completed we will set up air-movers to speed up the drying process allowing your business to be ready for a fresh new day of operation.
No matter what your specific cleaning needs are we are more than confident that we have what it make the carpet in your office look their very best!
If you are interesting in contacting us for a free quote or for more information, please call us at 01626 864834 or 07803 616192. We look forward to speaking with you.