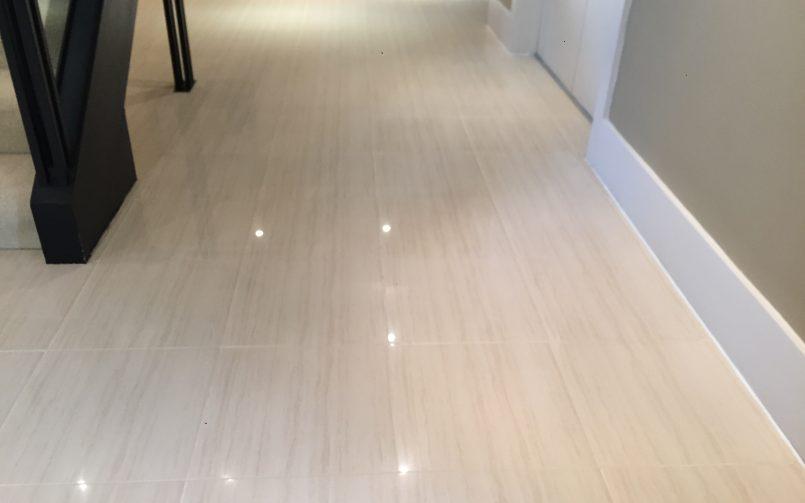 It's not hard to see why so many people, all across Devon and the wider south west Southwest, opt to get hard flooring installed in their home or business. It immediately gives either a commercial or residential environment a sleeker and more modern look, whilst still possessing an inviting and warm air.
Looks aside, most people will tell you that the other biggest benefit of hard flooring – whether it be tiles, ceramic, slate or marble – is that it's easy to maintain. Well, here at Rogers Cleaning Services this is an area in which we consider ourselves experts. With that in mind, we'd say that hard flooring's reputation as being easily maintained is true… to an extent!
Hard floors are certainly easier to clean than carpets. We wouldn't go so far as to say they're "easy" to maintain, however. Without regular, professional hard floor cleaning, dirt will still build up in the grooves and crevices of the flooring. Over time, this will lend the whole floor a grubby, unattractive look.
Fortunately, it's certainly not hard to find a hard floor cleaning company in Devon who'll try to rectify this for you. All across our great county – in Exeter, Exminster, Newton Abbott and beyond – there are plenty of professional hard floor cleaners out there.
With that said, you do need to be careful about who you choose to hire. You see, some companies out there have failed to move with the times. You might not think of hard floor cleaning as a particularly tech-heavy industry… but in that case you'd actually be wrong! The machinery and other tools which are used have progressed at a remarkable rate in the years that we've been in the hard floor cleaning game.
Quite simply, the days of it being acceptable to simply use a mop, and perhaps a rudimentary cleaning solution, are long gone. To get the best available results nowadays, you need to go with a hard floor cleaning company who have moved with the times, and have gone to the trouble – and the expense – of investing in the future.
Here at Rogers Cleaning Services, we firmly fall into that category. We may have been in business for some time now, but we've always made it a priority to stay abreast of the latest innovations in our field.
We've regularly updated our equipment, so that now we carry and use the latest cleaning machinery – and the best cleaning solutions on the market – to ensure we do the best possible job. The advanced equipment we now use is able to literally raise the dirt out of the grooves in your hard flooring, ready to be gotten rid of. We can't promise you'll be "stunned" at the results we get, but you'll definitely be highly impressed!
So, don't simply go with the first hard floor cleaning company you come across. Take the trouble to research your options, and pick one who've been sure to modernise their equipment and their approach. It'll take a little extra time, sure, but the results you'll get will more than make up for it.
Rogers Cleaning Service certainly fit the bill. We're a modern, reliable and effective choice. We're also happy to work anywhere across the Southwest, from Exeter to Dawlish, from Teignmouth to Torbay. To get in touch with us now, to discuss your hard floor cleaning needs, just call 01626 864834.