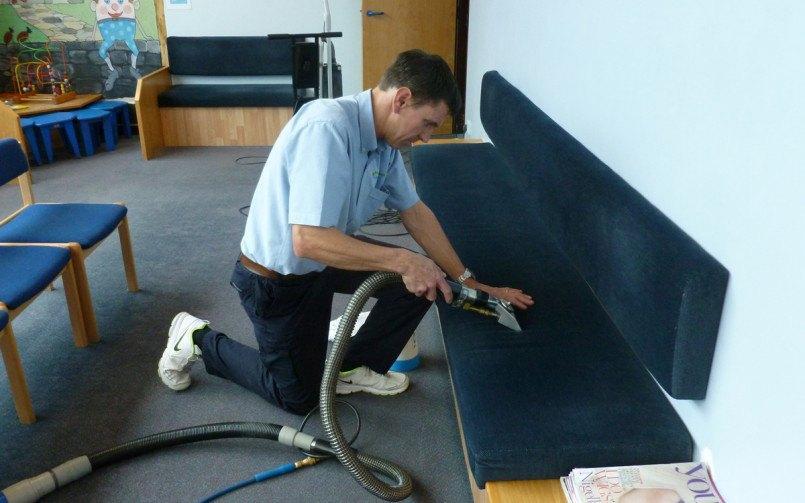 Upholstery cleaning is an absolutely vital service for every business.
If you own a services business – a bar or restaurant, perhaps – then ensuring you have clean furniture is one of the first things you need to do. It helps to project an aura of good hygiene, and ensures your establishment is a nice place in which to hang out.
If you run an office-based business, it's equally important. Clean upholstery gives an air of professionalism to your office environment, which is integral to keeping your employees working hard, and to impressing any potential clients who come in for meetings.
We're sure you agree with both of those points; we think they're pretty tough to argue with, anyway! If you recognize the crucial importance of upholstery cleaning, then you'll have no hesitation in calling in the professionals to carry it out in your business. We realize we have plenty of competition in areas like Teignmouth and Exeter, but we're still confident in stating that we should be your number one choice.
Here are the top four reasons why:
If we say that time really flies in the upholstery cleaning business, you might think that we're joking. When you're as passionate about it as we are, though, it really is true!
Even we were stunned, however, when we realized we'd been going for 25 years. That makes us one of the longest-established cleaning businesses in the Southwest, which we're extremely proud of. For you, that means that whatever business you're in, we'll bring a wealth of experience with us every time we fulfil your upholstery cleaning needs. We've done it all and seen it all in the past two and a half decades!
We know what we're doing!
You might think that's a pretty basic point, but you'd be surprised how many supposedly 'professional' outfits in Exeter, Teignmouth and other nearby areas fail in this regard!
We carry our aforementioned lengthy experience into every job we do. In fact, the only reason we've been able to keep going for so long is because, when it comes to jobs like upholstery cleaning, we consistently carry out exactly what we promise to do.
Our four-step upholstery cleaning method has been tried and tested for many years now. It uses the latest technology, as well as our extensive expertise, to always achieve optimal results.
As businesspeople ourselves, we know how important time management is for professionals. That's why our working hours are extremely flexible; because we always want to fit in around whatever you're doing.
If you run a bar, and want your upholstery cleaning done early in the morning, that's fine with us. If you own an office-based business, and need it done after-hours… no problem! We're always willing to arrange our offering around your specific needs.
Simply based on how long we've been in business now, you can probably work out that we're pretty reliable, and get… decent results, to say the least!
We know how vitally important your business environment is to you, however, both financially and personally. That's why we take our guarantees a step further. We want to assure you that we are fully insured with public liability and treatment risk. In the extremely unlikely event that something bad does happen to your furniture on our watch, you won't be on the hook for it.
We could talk all day about why Rogers Cleaning is the number one option for your business's upholstery cleaning needs. You'd probably get bored eventually though, so we'll leave it at those four – pretty solid – points for now!
If you own a business in Exeter, Teignmouth, or elsewhere in the South-West, get in touch with us today. Simply call 01626 864834 or 07803 616192, or send us an online message here. We very much look forward to hearing from you!