Commercial Carpet Cleaning In Devon
We regularly provide commercial carpet cleaning services to local offices, schools, hotels, health surgeries, day care nurseries, public houses, restaurants, casinos and many similar premises. We encourage these establishments to schedule us to visit on a regular basis (perhaps 2-3 times a year) so that their carpets and upholstery always look and feel fresh.

At Rogers Cleaning, we can help keep your work place carpets, and soft furnishings, looking their best thus creating a better environment for your visitors, clients and a healthier work place for staff. We have a specialist cleaning systems to suit all carpet types and situations.

The main cleaning system we use is hot water extraction, as this provides the most thorough deep-cleaning available. However, a low moisture encapsulation cleaning system may be a better option in some environments where rapid drying times and quick turn around are essential.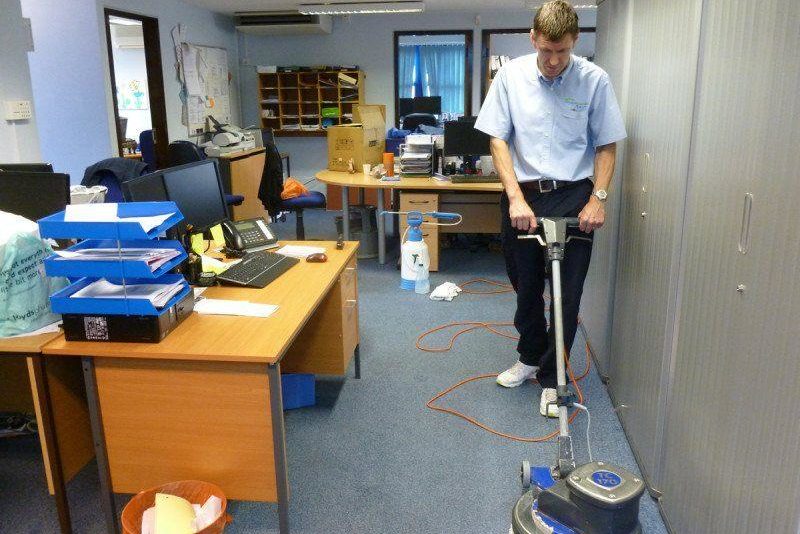 We also offer commercial hard floor cleaning services, including specialist cleaning of altro safety flooring and other hard to clean special use flooring, as well as deep cleaning of wooden floors in bars, restaurants and other commercial spaces. Checkout out videos below to see the difference we can make!
Become One Of Our Happy Customers!
Video Gallery
Stages of Safety Floor Cleaning
Clean and Re-polish of wooden floor
The Stages Of Low Moisture Cleaning
1. Vacuum carpeting (Brush carpeting with electrical power brush used with areas of severe crushed pile) This assists in lifting the pile and loosening dirt/dust trapped in the carpet.
2. Spray carpeting with encapsulation cleaning solution and leave for a few moments of dwell time so that the solution penetrates the pile.
3. Clean the sprayed area with specialist pad and rotary machine rinsing the pad periodically.
4. Treat any spots and stains that remain.
5. Re-nap the pile (if required) with pile brush.
6. Air-movers will be used if required to speed up drying.

What ever your cleaning needs, we can help! We offer one-off cleans or full maintenance contracts for offices, restaurants, public houses, housing associations, children's nurserys, churches and homes in the Teignbridge area.
Call our friendly team today on 01626 864834 or 07803 616192 to see how we can help your business to always look its best!
The latest news from our blog: